​Why 409 Stainless Steel Is The Best For Your 4WD Exhaust
Are your looking for an exhaust system that can handle the harshest of Australian conditions? Then, you should be considering a 409 Grade Stainless Steel Exhaust system for your 4WD.
It's a common belief that stainless steel is not magnetic. This can be true of grades of stainless steel that have a high content of chromium [such as 304 & 316] but 409 grades are magnetic because it contains a higher carbon content. It must also be pointed out, the more 304 & 316 tube is bent, cut, welded or altered it increases its magnetism.
Mild or Aluminized Steel has long been a suitable product for automotive exhaust applications – but 409 stainless steel is the superior choice for your 4x4 exhaust system. It offers the best combination of both service life and corrosion resistance. This is testament to the fact that most vehicle manufacturers now choose 409 stainless steel for their factory exhaust systems. In short, under normal operating circumstances 409 will not rust out at the same rate as mild steel which is ideal for
Through a chemical reaction, 409 oxidises to a light brownish hue which aids in the corrosion resistance. While it's not highly polished like 304 stainless steel, it offers the advantages of higher strength, longer life and higher heat tolerance [especially necessary for Dump Pipes]
Certain precautions still need to be adhered to when driving in corrosive environments, particularly on dunes, the beach of through muddy terrain. Salt water and soggy salt laden sand is not a good combination to a hot exhaust so its important that you give your 4WD undercarriage some attention and clean the exhaust with fresh water after an offroad outing.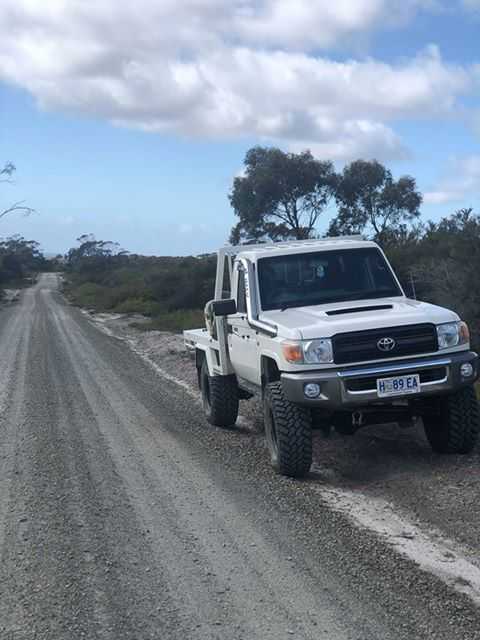 Check out our website and see if we have a 409 stainless steel exhaust system to suit your 4WD. Remember we are always thrilled to see your offroad pics and clips so send them through to info@rhinoexhaust.com.au