Everything For The DIY To Manufacture An Exhaust System
Sometimes finding a single spot for sourcing all the parts that you require for building your own exhaust system can be a challenge. From mandrel bends to mounting brackets, straight tube to a decent sports muffler, you want to ensure that you can add everything you need in a single online visit and get delivered to you fast.
Building your own exhaust system can be great fun and an interesting challenge. It certainly helps if you have the skill of welding so you can put a nice finish on the exhaust. Some people prefer to TIG weld over MIG; this really depends on what material you are welding – for mild steel exhaust pipework almost any MIG welder will be fine, bear in mind to adjust the wire speed and amps together to a setting that is suitable to your level of welding expertise.

TIG welding for stainless gives the perfect look and although the weld itself doesn't look a chunky weld it is extremely strong and durable.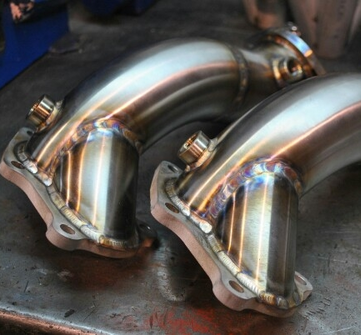 We often get the question do I need a hoist to build my own exhaust? It's a good question but it ultimately depends on the vehicle that you have. We once had a 200 Series Landcruiser that we changed the exhaust in the carpark without a hoist and we didn't even break a sweat – in saying that the 200 Series Landcruiser is a beast off the ground and there is a lot of clearance [some 220mm of ground clearance in fact!] But coming back to the question, we would recommend a hoist for any 2WD and at least ramps for a 4WD. The advantage of a hoist is that you can see everything in front of you; this is particularly important when there are minimal clearances for example over-axle pipework.

Building your own customised cat-back exhaust or a turbo back exhaust for a 4WD will only get easier as the Rhino Exhaust team continue to share tips tricks and video clips on the do's and don'ts! Rhino Exhaust is continually adding to our range to ensure that there is everything available for the DIY to shop online and get what they need fast.
If you've just completed your own DIY exhaust fabrications simply send your pics and story to info@rhinoexhaust.com.au - we'd love to hear from you!!