Design Of The Rhino Exhaust VE-VF V8 Engine Headers & Cats
Designing headers for the modern V8 engine is a challenge but at the same time a great opportunity to provide a significant performance boost to the engine Headers [also known as extractors] are one of the easiest bolt on performance products you can install to give your engine more grunt. Essentially their purpose is to improve the gas flow by reducing the back pressure which the original manifold possesses. This is where the fun starts – the design of the headers is critical to ensuring the gas flows seamlessly into a collector. Rhino Exhaust – like most other header manufacturers chasing ultimate performance gains on the commodores used 1 7/8" [47mm] primaries with a 4 into 1 collector configuration to 3inch flanged catalytic converter which then bolts to the centre exhaust.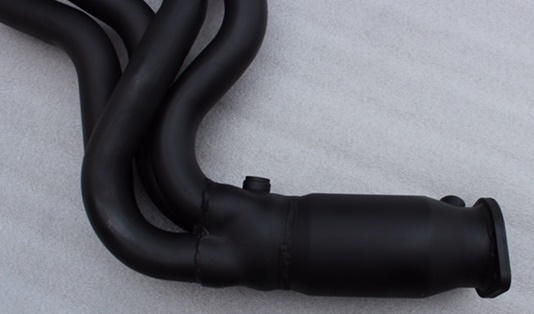 The Rhino Exhaust tech team recognised that a good deal of manufacturers of headers for the 6.0L & 6.2L VE/VF Commodores had the headers and cats separate to each other.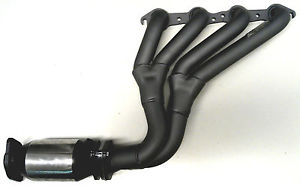 So the Rhino Exhaust team analysed if the high flow cats could be incorporated into the headers to improve flow – the answer was yes. Just after the 4 into 1 collector which is the largest opening – rather than reduce the pipework back to 3inch and weld an ugly flange they sat the body the cat converter right behind the collector so the high velocity gas will continue to flow unhindered.

This Rhino Exhaust VE/VF V8 header design also makes the installation process easier. Mounting the cat converters separate can be a hassle as the space to get nuts and bolts in is pretty limited however the Rhino design overcomes this.
Another design aspect that the Rhino team picked up on was the need to use 200 cell high flow metallic catalytic converters on this vehicle. The 100 cell cats create a noise which is notably heard within the cabin and is a real pain – its like a rushing sound and every time you step on the gas it resonates through the cabin; as the cat converters are mounted directly below the gearbox.

Lastly the 6.0L & 6.2L VE/VF headers can be bolted to the Holden OEM factory cat back exhaust system without any modification. So if vehicle owners prefer to keep their cat back system original and still get a performance kick out of their V8 then they can do it with the Rhino Exhaust headers and cats package.